Covid infection control measures in UK hospitals should be relaxed to help the NHS tackle a record backlog of patients waiting for treatment, the UK's public health agency has advised.
The UK Health Security Agency (UKHSA) has recommended three "pragmatic" changes that hospitals can make on social distancing, testing and cleaning practices to ease pressure on elective care services.
A reduction of physical distancing from two metres to one metre in non-emergency departments is among the recommended changes to current Covid Infection Prevention and Control (IPC) measures.
This would put hospitals in line with World Health Organisation (WHO) guidance, which currently advises one-metre physical distancing in healthcare facilities.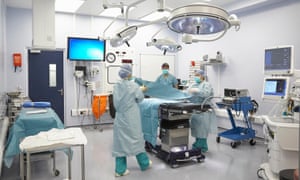 The agency also recommends removing the need for patients in low risk groups to self-isolate for three days and have a negative PCR test before selected procedures.
Enhanced cleaning should also be axed in low risk areas and providers can revert to standard practices, the agency said.
It noted that the WHO and other international authorities have stated there is limited evidence on transmission of Covid via surfaces, and that hand hygiene is likely to be more effective.
The agency said its advice comes as more of the population is vaccinated and protected against Covid, and hopes it will ease the pressure created by the pandemic on NHS capacity over the next few months.
A record 5.6 million patients are waiting for treatment due to delays caused by Covid, according to NHS England figures released earlier this month.
Dr Jenny Harries, UKHSA chief executive, said: "We have reviewed the existing Covid-19 IPC evidence based guidance and made a series of initial pragmatic recommendations on how local providers can start to safely remove some of the interventions that have been in place in elective care specifically for Covid-19.
"This is a first step to help the NHS treat more patients more quickly, while ensuring their safety and balancing their different needs for care."
However, the UKHSA stressed that staff working in areas where Covid-19 control measures have been relaxed should be fully vaccinated, asymptomatic and not in contact with a positive case.
Staff will also be required to continue to comply with current guidance on asymptomatic testing.